HELL MONEY

"Guaranteed best exchange rate this side of the River Styx"

Incinerating huge piles of "Hell Money" or "Ghost Money" (along with paper cars,
houses, boats, airplanes, cell phones, etc.) all to lager the ancestors, is a feature of
Taoist Temples around the world.

Better safe than sorry...

Picture sometime in the far distant future ... the A.C. goes on the blink...
and you don't have any of the local currency to pay the repairman...

If you had prepared, you'd have money to burn!!!
Stock up... While you still can.

"Bank of Ming Mai"
1000 note
6.35" by 2.85"
What you get...

One "Bank of Ming Mai" 1000 note
But wait there's more
One "Hell Bank Note" 500,000,000 note

Peace of Mind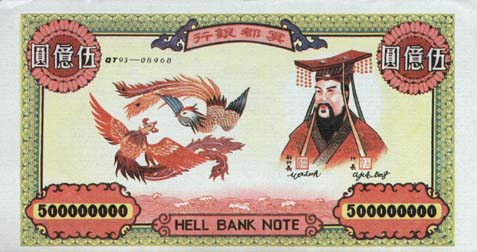 "Hell Bank Note"
500,000,000 note
6.5" by 3.5"


OK, OK... Here's the deal...
You send me:

1 crispy U.S. ONE DOLLAR BILL
AND
1 SELF-ADDRESSED-STAMPED-ENVELOPE...

Then I send you:

2 crispy GHOST BANK NOTES as described above...

That's two for one, friend... How could you go wrong???


Here's how!!!
IMPORTANT NOTICE

NO SELF-ADDRESSED-STAMPED-ENVELOPE
and
you DON'T get your Hell Money.

Any money received with no SELF-ADDRESSED-STAMPED-ENVELOPE
will be donated to the Tibetan Temple here on Maui.
Lhama Tenzen sez MAHALO...
For your Hell Money please mail

One crispy US Dollar Bill
AND
One SELF-ADDRESSED-STAMPED-ENVELOPE

to my secret hideout:

The Secret Hideout
P.O.Box 1194
Kula, Hawaii 96790

Any Questions or Comments...
Please e-Mail me from the link below...

Or click the Dancer for HOME...




All I want to do is dance, dance, dance...